Our Rolling Benches!
Corvette shown in slide show, but this same procedure can be used on any vehicle with a removable drivetrain assembly. Such as Porshe, Ferrari, Cadillac.

The entire Corvette/Cadillac drivetrain rests safely on the heavy duty rolling aluminum benches. The torque tube and bellhousing will be unbolted, so that the engine can easily and safely be extracted. Extraction and reinstallation as they were done at the factory.

Use of our tables for this procedure is very simple. The table is placed under the car while on the lift. The drivetrain will rest on the table after unbolting from the chassis. The lift is then raised, leaving the drive train behind on the table. Extendable handles are provided to roll the table from under the vehicle. The motor and drivetrain components can then be moved to anywhere in the shop to work on. To reassemble, the process is simply reversed.


Your Other Option!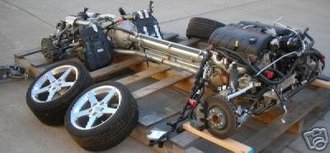 Don't resort to using unstable palettes or stacks of wood to work on and store your drivetrain. Our tables are engineered and designed to hold the entire weight of the vehicle. Long term storage of the drivetrain on our tables makes moving and working on it very easy.


---